At least 37 people, mostly foreigners, have been killed and 36 injured in an attack on a beach in the Tunisian resort town of Sousse, according to the health ministry.
In Kuwait, a suicide bomber blew himself up during Friday prayers at a Shia mosque in the capital, killing at least 13 people in an unprecedented attack claimed by the Islamic State group.
Tunisia has been on high alert since March
Tunisia has been on high alert since March when militants killed 22 people, mainly foreign tourists, in an attack on a museum in the capital Tunis.
The Interior Ministry told the BBC "a terrorist attack" was ongoing and there were casualties, but did not give any more details.
Witnesses described scenes of panic and confusion after the shooting at a hotel in a district of Sousse, about 140 kilometres (87 miles) south of Tunis.
An armed man "entered through the back of the hotel and opened fire", said interior ministry spokesman Mohamed Ali Aroui.
Tunisia, the birthplace of the Arab Spring, has seen a surge in radical Islam since veteran president Zine El Abidine Ben Ali was ousted in the 2011 revolution.
Dozens of members of the security forces have been killed since then in jihadist attacks.
Kuwait Shia mosque blast death toll 'rises to 25'
The death toll from a suicide attack on a Shia mosque during Friday prayers in the Kuwaiti capital has risen to at least 25, the interior ministry says.
Another 202 people were wounded, it added. Images circulating online show bodies on the mosque floor amid debris.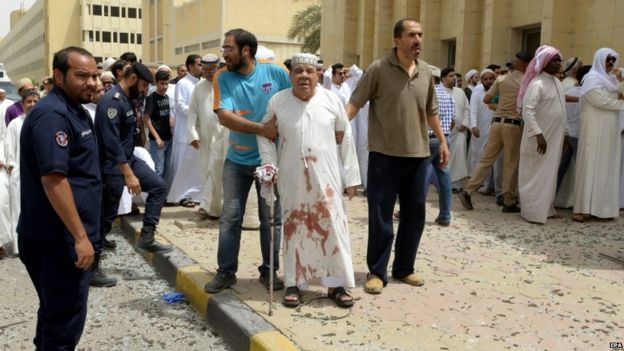 The blast hit the Imam Sadiq Mosque in a busy area to the east of Kuwait City.
An Islamic State- (IS) affiliated group said it was behind the attack. IS has carried out similar recent attacks in neighbouring Saudi Arabia and Yemen.
However, this is the first attack on a Shia mosque to take place in the small Gulf state.
Kuwaiti Prime Minister Sheikh Jaber al-Mubarak al-Sabah said the attack was an attempt to threaten national unity. "But this is too difficult for them and we are much stronger than that," he added.