At least 12 people were killed and more than 20 injured in a collision between a bus and a truck early Tuesday near the Thermal Power Station in Jamshoro district, rescue sources said.
A passenger coach was enroute Karachi from Dera Ismail Khan when it met the accident on Indus Highway near Petaro.
Local sources told that the bus 'Super Masood Coach' was over-speeding which caused the accident. Most of the passengers belong to South Waziristan.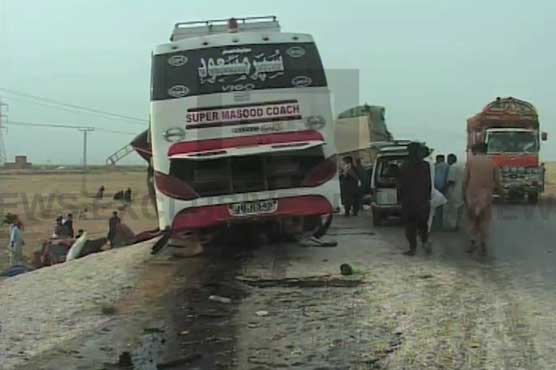 Some of the injured were shifted to Liaquat University Hospital in Hyderabad.
The deceased include Arbab Ali Lund, Muhammad Suleman, Mustafa Khan, Abu Bakar, Faiz Muhammad, Yaseen Khan, Muhammad Mustafa, baby Hina, Muhammad Suhail, Aachar Khan Solangi, Mir Muhammad, Ameer Khan, Karo son of Kewal and Saeed Ahmed.
The passengers who sustained injuries include baby Shahzadi, Baitullah, Zahoor Khan, Muhammad Rasool, Sadiq Ali, Fahad, Shahid Ameen, Muhammad Ameen, Aftab Ahmed, Anwer Ali, Iqbal Hussain, Abdul Ghani, Khair Muhammad, Abdur Rehman, Muhammad Ayaz, Umer Farooque, Abdul Sattar, Saho Khan, Liaquat, Rafiuddin, Tariq, Abdul Gaffar, Mudasar, Hajra Bibi, Abdul Hameed, Bilal Shah, Saima Bibi and Samreen.
Eyewitnesses said that driver of the coach was killed in the accident however, police have launched investigations.